Shadow of Power
"Quote"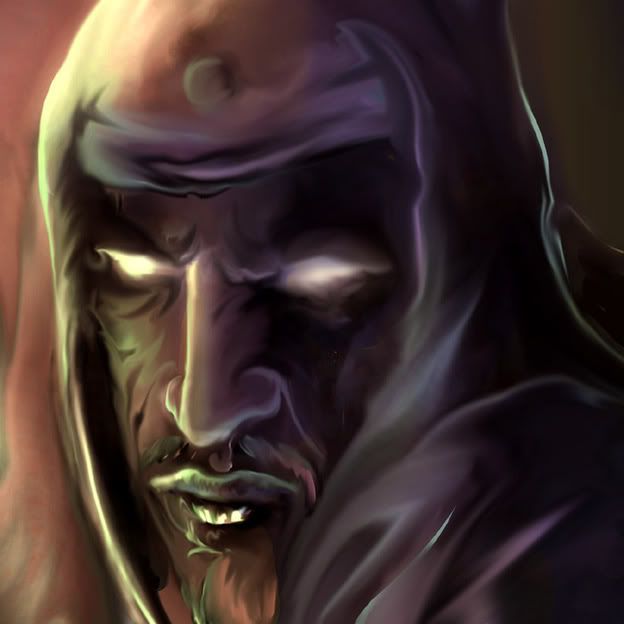 I'm lazy and will update properly soon - Gavin.
Caste: - Defiler Anima: -
Patron: - She who lives in her Name Favoured: -
Concept: - Over turned Vizier of a former southern Kingdom.
Motivation: - Take back the lands over which he has lost control.
Age: Mid 30's
XP total: 72, XP Unspent: 8,
---
= History =
A vizier of some kind in the former kingdom of "White Lightning"
---
= Attributes =
Mental Attributes
Intelligence: 5, Wits: 3, Perception: 1,
Physical Attributes
Strength:1 , Dexterity:5 , Stamina:1
Social Attributes:
Appearance:5 , Manipulation:1 , Charisma:5
---
= Abilities =
Melee: 5, War: 3, Occult: 5, Bureaucracy :5, socialize: 5,
Integrity: 2, Performance: 1, Presence: 3, Resistance: 1,
Craft: (???) 1, Larceny: 1, Stealth: 1,
Specialities:
Occult: mind-hand manipulation +2
---
= Backgrounds =
Cult: (2), Backing: (1) - Yozi, Influence (1) - Hell, Resources (2), Past Life (3), Demonic Familiar (1), Unwoven Coadjutor (3),
---
= Essence and Virtues =
Compassion: 1/ Conviction: 4/ Temperance: 4/ Valour: 1
Virtue flaw - Conviction
Make this up
Willpower: 10
Essence:
Rating: 4 = Personal: 22/ Peripheral: 43/ Committed:10
Anima Effect:
---
= Unique features =
---
= Status and Equipment =
Artefacts:
-
-
Heartstone and Manse:
Other items:
-
-
Defences:
Dodge D.V =
Mental D.V =
Health and soak:
Soak:
---
= Charms =
Cecelyne:
- //
Factual determination analysis = cost 2m detects lies
Essence dissecting stare =cost 7m /see sorcerers sight
Mind-hand manipulation = 10 committed own section for details
*transcedent desert creature= permanent / unaffected by negative effects or harsh terrain has perfect vision there , penalties for starvation never rise above 3 because of perfect metabolism never produces waste , cannot be tracked , adds essence to stealth in desolate areas
sands through fingers defense = 3m / perfect dodge
---
= Dice Pool cheat sheet =
---
= Play style =
---
page revision: 14, last edited: 14 Sep 2009 23:48